DIY Candied Apple Bar
What better way to throw a memorable holiday party than with a fun, unique, and adorable candied apple bar? This party trick is delicious and entertaining for your guests, but the best part is that – if done correctly – a candied apple bar can be a cost-effective way to feed a large crowd! Especially when you buy your toppings in bulk.
What You'll Need:
Apples (all kinds)
Wooden skewers or popsicle sticks
Bowls for dunking (or a few slow cookers)
Dishes for toppings
Toppings & scoops
Tablecloth
Labels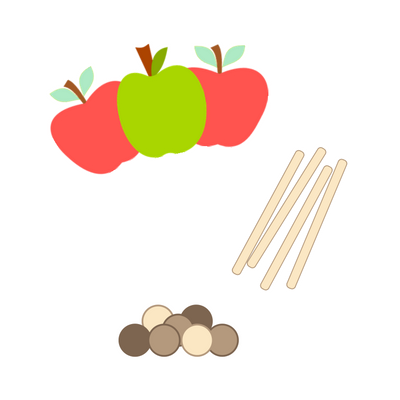 Planning
The key to creating a successful candied apple bar without breaking the bank is planning. Plan your budget and your shopping list ahead of time to avoid overspending, and map out your design ahead of time for a beautiful display!
Before gathering the goodies, do a headcount of how many guests you're expecting and plan accordingly.
Will there be a lot of children at your event? Consider a separate candied apple bar for the little ones. That way, they can enjoy creating their own candied apples and you can enjoy a candied apple bar that isn't left in a messy shamble.
Choose a color scheme or theme for your candied apple bar. This will make a huge difference in your display! What kind of decorations will you have? Do you have cute labels to tie it all in?
Refrain from topping overload by planning your shopping list ahead of time. Decide whether you'll offer a whole spread of toppings, or narrow down the selection to make certain combinations or coordinate with your theme.
Because you planned your topping list ahead of time, you won't overdo it with the amount of cute, thrift store serving dishes you choose to buy. Limit yourself to one or two dishes for every topping.
Choose a serving method that works best for your crowd! You can stick with the traditional whole apple style, or you can dare to mix things up like these bloggers did!
Setting Up
Once the plans are squared away, you can relax a little; the hard part is over! Setting up your candy apple bar is where the fun begins! Here are a few things to consider before you set up:
You can count on a mess; it comes with the title. Cover your serving table with a disposable table cloth and if your candy apple bar is indoors, you may want to consider a drip cloth or an old rug around the base of the table.
Don't forget that when melted caramel cools, it hardens. Keep your dipping options nice and warm with a few crock pots! If you don't want to deal with the task of cleaning old, sticky caramel out of a crock pot, try this nifty trick!
Place a glass bowl in the crock pot
Fill the bowl with caramel cubes
Fill the crockpot with water (don't get any in the caramel bowl)
Cover and cook until the caramel is melted
Serve!
Think ahead when arranging your candy apple bar. If your guests have to reach over a valley of toppings to dip their apple in caramel, there's a good chance your display will be covered in strings of hardened caramel before the night is through. Create an assembly line type of method, or place your dipping bowls at the ends of the table.
If you've decided to segregate your toppings by scrumptious recipes, don't forget to print off a few recipe cards to display for a tasty recommendation. While you're labeling your sections, print off a few labels for your toppings too!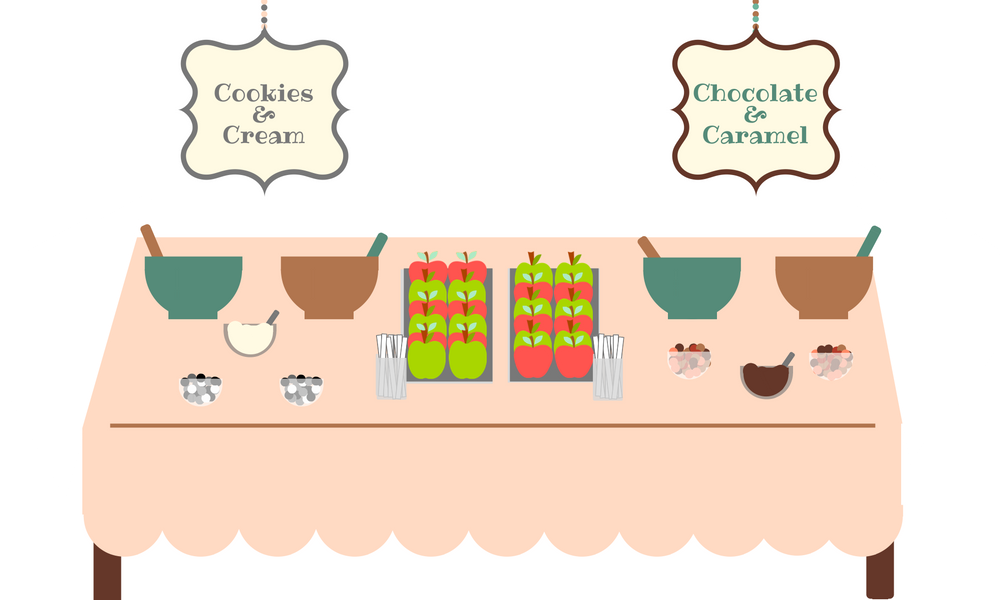 The Sweet Stuff
Give your guests plenty of options to choose from for the ultimate candied apple bar. Create a free-for-all table with a large variety of toppings to try, or give them a bit of guidance with a display that is arranged by recipe! We've compiled a list of tasty toppings and the most scrumptious candy apple recipes we could think of to help get you started!
Apple Pie Caramel
Melted caramel
White chocolate drizzle
1 cup sugar mixed with 3 tsp. cinnamon
Snickers Inspired
Melted caramel
Crushed peanuts
Milk chocolate drizzle
Crunchy Salted Caramel
Melted caramel
Crushed pretzels
White chocolate drizzle
Chocolate Sea Salt Caramel Rocks
Cookies & Creme
Melted white chocolate (or melted oreo filling)
Mini marshmallows
Crushed Oreos
So there you have it! All you need to know about creating your own candied apple bar. If you're not sure how to set up your display, check out this candy buffet blog post for some pointers!
Have you ever done a candied apple bar? Leave a comment with your tips or scrumptious candied apple creations!
Get your goodies now and be entered to win our Finally Fall Giveaway!